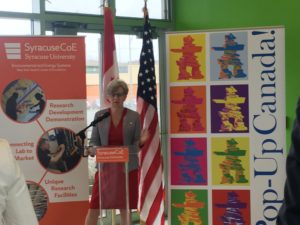 On Wednesday, April 4, SyracuseCoE and the Consulate General of Canada in New York partnered for a panel discussion on the state of the green building field in Canada and New York. Phyllis Yaffe, Consul General of Canada in New York, kick-started the afternoon with a speech that examined Canada's and Central New York's collaborative history in the engineering and designing of environmentally friendly structures, saying that together, Canada and New York "build things together, make things together and take care of the land around [their] borders."
Afterwards, Canadian green building experts, Laura Kennedy of Nedlaw Living Walls, Hazel Sutton of the Building Owners and Managers Association Canada, and Erik C. Backus, Director of Construction Engineering Management at Clarkson University, explained the new technologies in Canada's green building sector, the real estate market's reaction and leadership to such changes, the policies supporting new innovations, and New York's role as a leading partner.  The panel was moderated by SyracuseCoE's Executive Director, Ed Bogucz.
The event was a success, with people coming from both New York and Canada to join in on the conversation.  Following the panel, the activities moved to the reception, where the conversation continued over good food and drinks.